Today I got a sealed new in box relict from an era where Microsoft made great gaming peripherals for computers. It's the SideWinder Strategic Commander: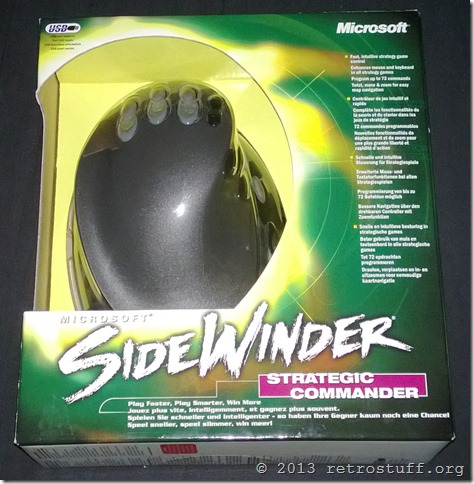 The controller looks like a regular-size mouse for left-handers, but don't let this fool you – that thing is huge! See the next pictures for a size comparison with the drivers CD and the box contents:
Besides the controller, the drivers CD is the most importing thing – lose it and you're in serious trouble to get it to work. There is no (official) way to get hold of the drivers or software since Microsoft abandoned it's SideWinder product line. Even more annoying is that Microsoft never released drivers/software for newer operating systems than Windows 98 or XP. While waiting for the installation of Windows 98 SE on one of my old computers to finish I stumbled upon this blog. It recommends the software Strategic Engine 1.3 by Philip Merwarth and even has a download link for it. Strategic Engine works fine even on Windows 8 x64, but I still prefer the old configuration software on a Windows 98 computer. Another Microsoft SideWinder I recently acquired is the Game Pad Pro. This one is much easier to handle – you just plug it in and it works (at least in 98 SE, XP and Win8 x64 – not in DOS though).