Some new/old stuff that was in the mail this week: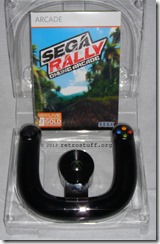 SEGA Rally Online Arcade and the Microsoft Wireless Speed Wheel. For some unknown reason this game is not available for download at my Xbox Marketplace. It's included as pack-in with the Wireless Speed Wheel only. Because the outer box was missing it was a real bargain buy – both items are brand new.
The Speed Wheel can be seen as a cross-breed between the excellent Wireless Racing Wheel and a regular game pad. Most game think it's just a game pad and behave accordingly – controlling the cars is almost impossible (e.g. Forza Horizon). But games that were designed to use either wheel play surprisingly well (e.g. Forza 4).
Continue reading New Arrivals: Wireless Speed Wheel – DSi – Roland U-110 →