If your CD-i player's clock is way off, then you can try to make use of the Timekeeper clock calibration tool of the low-level test. Be aware that it needs an accurate frequency counter and won't help if your Timekeeper suffers from an empty battery.
Here are some NVRAM+RTC solutions. The 8 KB chips operate within the accuracy of ± 1,53 minutes per month at 25 °C (and the 32 KB socket better than ± 1 minute per month).
8 KB – ST MK48T08B and M48T08 Timerkeeper.
8 KB – Dallas/Maxim DS1643 NV Timekeeping RAM.
32 KB – Dallas/Maxim DS1216C SmartWatch RAM (with Mitsubishi M5M5256DP SRAM).
The clock calibration item of the low-level test is only displayed on 8 KB NVRAM ROMs. Auto-probing ROMs will display it as well, but only if there is an 8 KB NVRAM chip installed. 32 KB RAM only ROMs do not display or need this option.
Regardless of wether this option is displayed or not, the results are only written to the calibration register of ST Timekeeper chips. Dallas made this very clear in this older version of the DS1643 datasheet: "Attempts to calibrate the clock that may be used with similar device types (MK48T08 family) will not have any effect even though the DS1643 appears to accept calibration data." (The current version of the datasheet does not contain this information.)
Before starting the clock calibration, check the service manual because the low-level test doesn't always indicate the correct IC and pin. Then, all you have to do is to connect the probe of a frequency counter to the correct pin. The frequency counter (gate time > 5 seconds) should display a frequency between 511,96724 and 512,03276 Hz. Next, press any button on the terminal and fill in the frequency in the format 512.xxxxx. The calibration tool will calculate the value and fill it into the Timerkeeper calibration register.
You can verify your result with the ST Clock Calibration Calculator. Note: It will display a binary value while the clock calibration tool will display a hexadecimal value. It usually differs by 1-2 bits.
Example
Calibration performed on a CDI470/20 (Mono IV, pin 23 of IC 7272, PAL20L8) with an ST M48T08 clock chip. I measured the frequency with a Rigol DG1022Z arbitrary waveform generator and set the gate time to 10,73 seconds. Then, I let it run for a couple of minutes and used the mean value.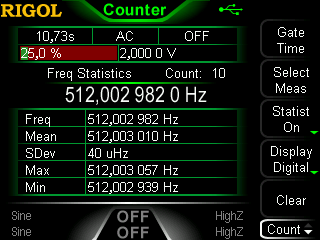 Calibration value: $00000002 = 00000010. The online calculator says 00000011, so it's a bit off.