Although there are still a couple of unfinished projects lying around, at least I want to finish this adapter before the end of the year. This is a list of things needed:
Instead of D-Sub15 connector I used a gender changer (male-male), it fits nicely in the housing of the D-Sub9 connector.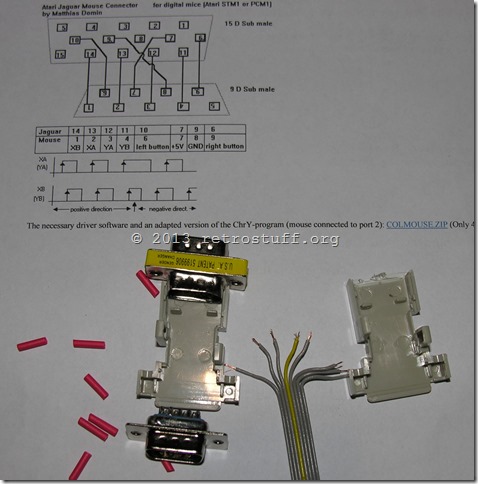 Heat shrink tubes are recommended for more stability as the wires are soldered directly onto the pins.
And to the right the assembled adapter. For now the wires keep it closed and absorb most of the pulling force when disconnecting the mouse or the Jaguar, but I don't think this will be it's final form…
This is an Amiga mouse connected to the Atari Jaguar. Make sure to tell the software what brand you are using (Amiga or Atari), the wires are swapped and thus not compatible.
In the game Elansar you have to press * for Atari and # for Amiga.