Some new/old stuff that was in the mail this week: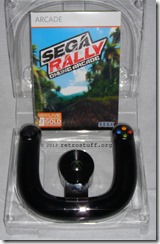 SEGA Rally Online Arcade and the Microsoft Wireless Speed Wheel. For some unknown reason this game is not available for download at my Xbox Marketplace. It's included as pack-in with the Wireless Speed Wheel only. Because the outer box was missing it was a real bargain buy – both items are brand new.
The Speed Wheel can be seen as a cross-breed between the excellent Wireless Racing Wheel and a regular game pad. Most game think it's just a game pad and behave accordingly – controlling the cars is almost impossible (e.g. Forza Horizon). But games that were designed to use either wheel play surprisingly well (e.g. Forza 4).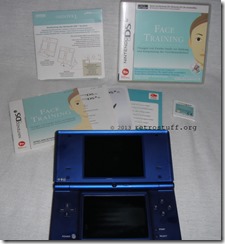 Face Training is one of the very few DSi exclusive games, those games won't work on a DS system. Included is a foldable cardboard stand for the DSi console.
The DSi shows signs of heavy abuse of the touchscreen and the power connector, otherwise it seems fine. I bought it because of the nice metallic blue color. Some day it will replace my boring white DSi but first it needs some thorough cleaning and repair/replacement of the broken/overused parts.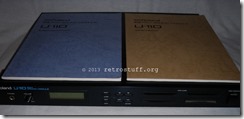 The U-110 is Roland's first PCM synth module. Let's see what kind of magic it can do to the computer games of the early 90's – at least until I can find more proper module like the Roland CM-64.