While doing my research for another project (finding a plug for the Philips CDI350 RGB in/out port), I came across an old IBM MIDI/Game port adapter. It is listed with P/N 29H9467 (FRU P/N 29H9269) and can be used with some models of the ThinkPad 760 series (760CD, 760ED, 760XD, and also 765D). What makes it so special is the plug. It is similar to the 26-pin external floppy connectors used by several laptop brands in the '90s. While most of the external floppy drives used a 17 mm wide plug, this one is 20 mm wide. This JAE datasheet lists the plug as TX20A series connector, part number TX20A-26PH1-D2P1-D1.
I took it apart to have a look at the wiring. First, I removed the ferrite bead. Next, I carefully opened the housing.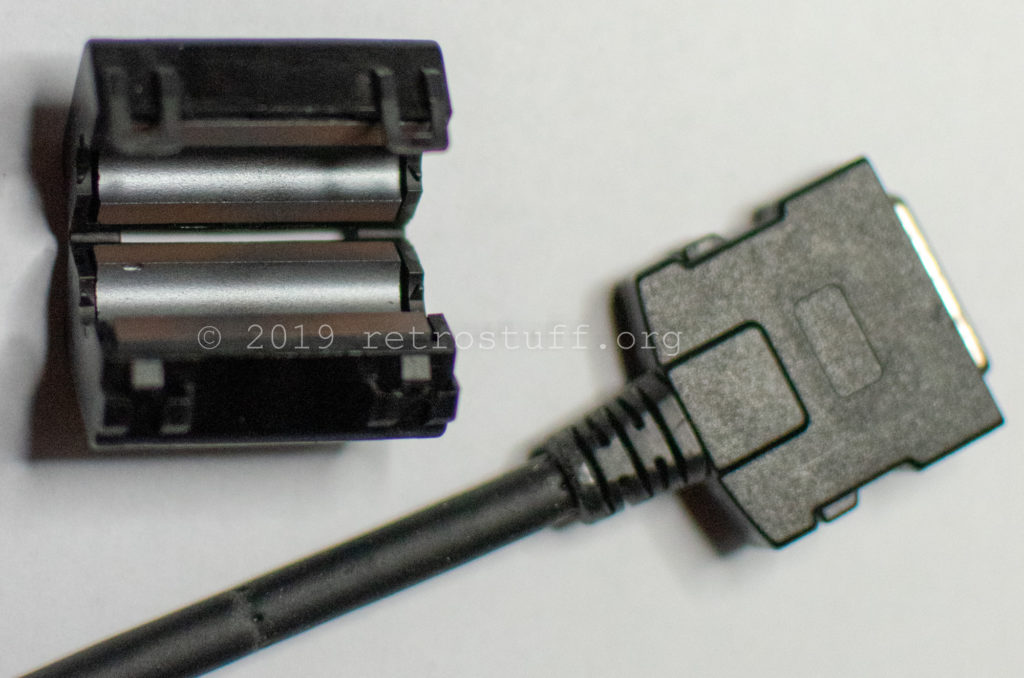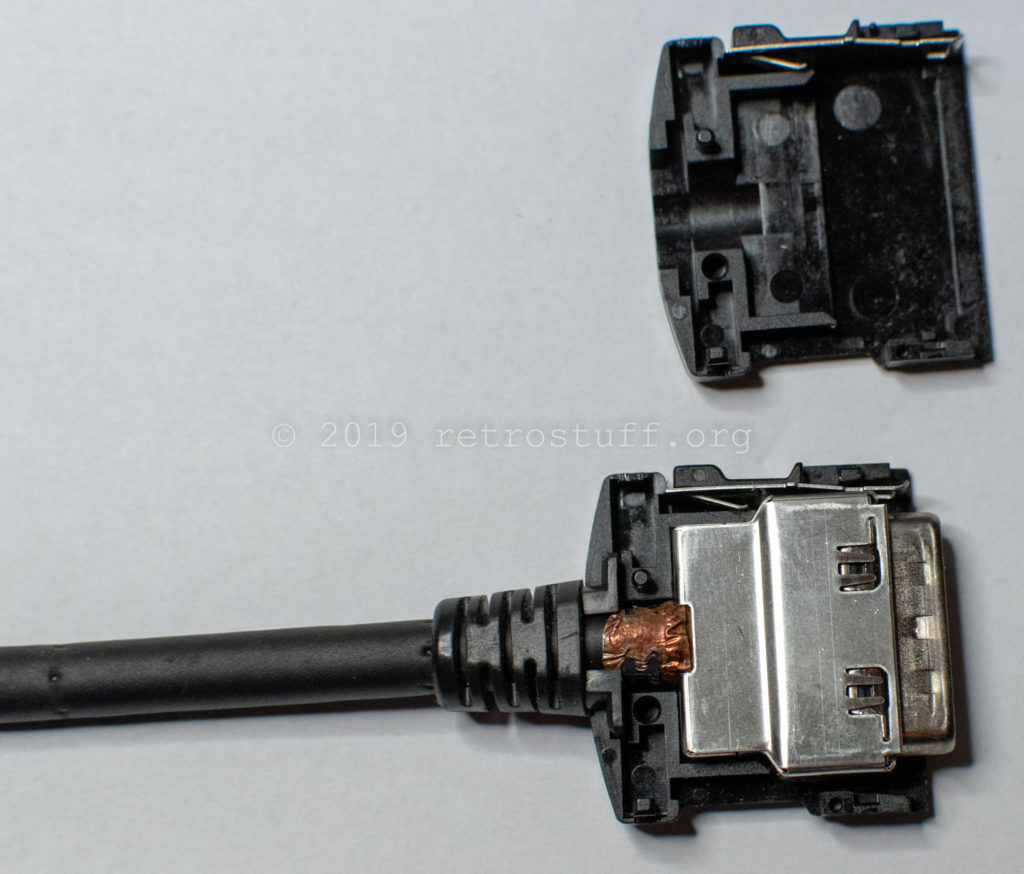 Then I removed the metal shielding, and an IDC connector was revealed. About half of the contacts are used.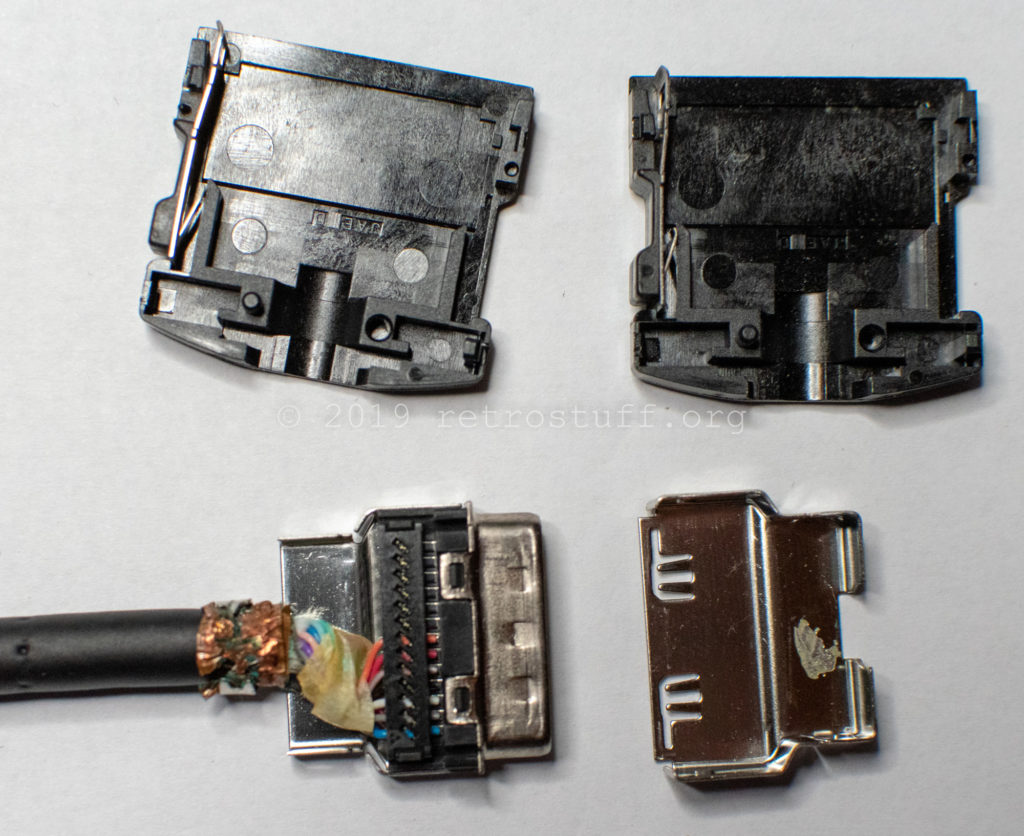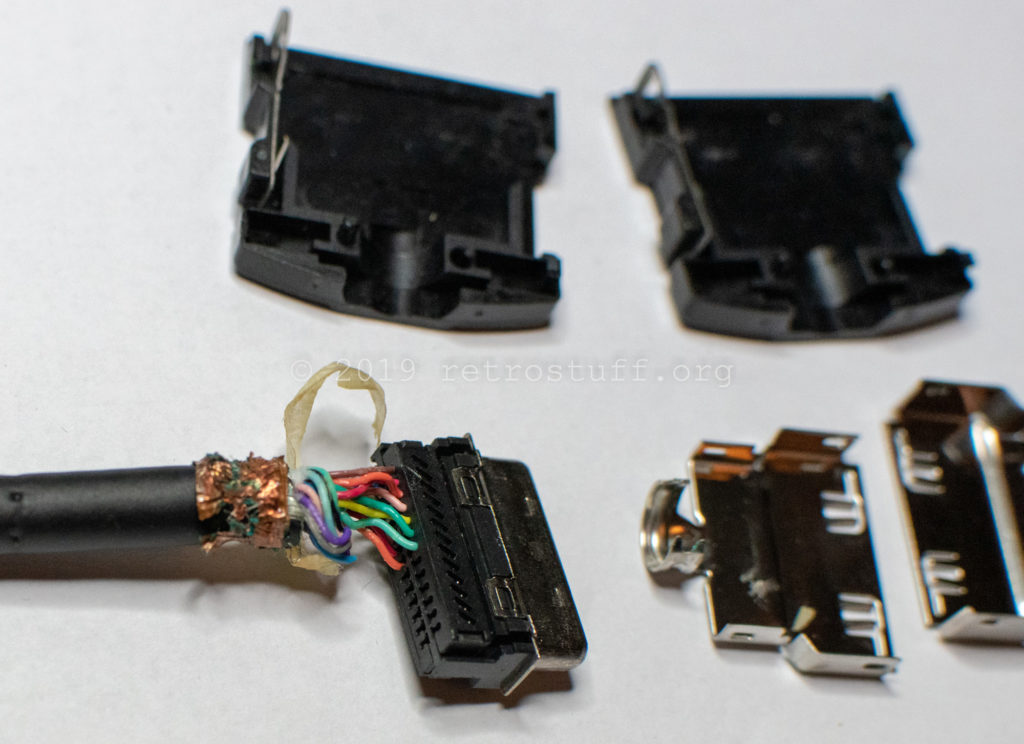 Pinout / wiring
The numbering of the pins was taken from the JAE TX20A datasheet, and the wiring of the adapter cable was determined with a continuity tester.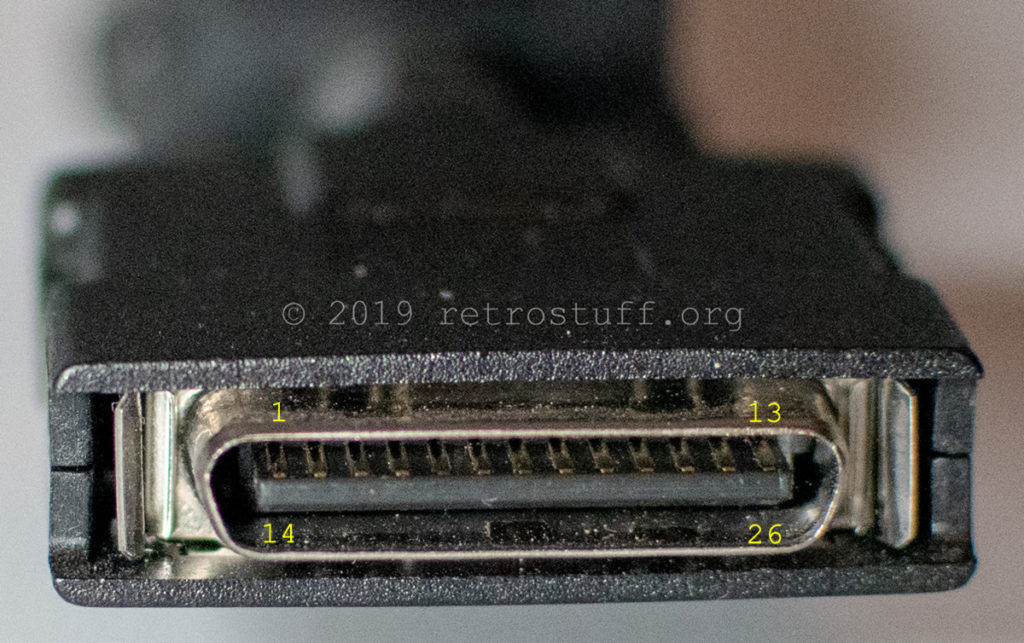 | | | |
| --- | --- | --- |
| TP 760 | Description | Game port/MIDI |
| 1 | n. c. | |
| 2 | n. c. | |
| 3 | n. c. | |
| 4 | n. c. | |
| 5 | n. c. | |
| 6 | n. c. | |
| 7 | Joystick 1, Button 2 | 7 |
| 8 | Joystick 1, Y-Axis | 6 |
| 9 | GND | 4, 5 |
| 10 | GND | 4, 5 |
| 11 | Joystick 1, X-Axis | 3 |
| 12 | Joystick 1, Button 1 | 2 |
| 13 | Vcc +5 V | 1, 8, 9 |
| 14 | n. c. | |
| 15 | n. c. | |
| 16 | n. c. | |
| 17 | n. c. | |
| 18 | n. c. | |
| 19 | n. c. | |
| 20 | MIDI RxD | 15 |
| 21 | Joystick 2, Button 2 | 14 |
| 22 | Joystick 2, Y-Axis | 13 |
| 23 | MIDI TxD | 12 |
| 24 | Joystick 2, X-Axis | 11 |
| 25 | Joystick 2, Button 1 | 10 |
| 26 | Vcc +5 V | 1, 8, 9 |
Note for CDI350 / CDI360 users
While the plug is a perfect fit for the RGB in/out port, I don't recommend plugging it in without cutting or modifying the cable first. Considering the different numbering of the pins on the CD-i players, the following signals are shorted when using this cable:
18 H.sync out x 20 Sync in
26 Blue in x 25 Blue in GND